Link to all presentation materials
Wednesday, May 10th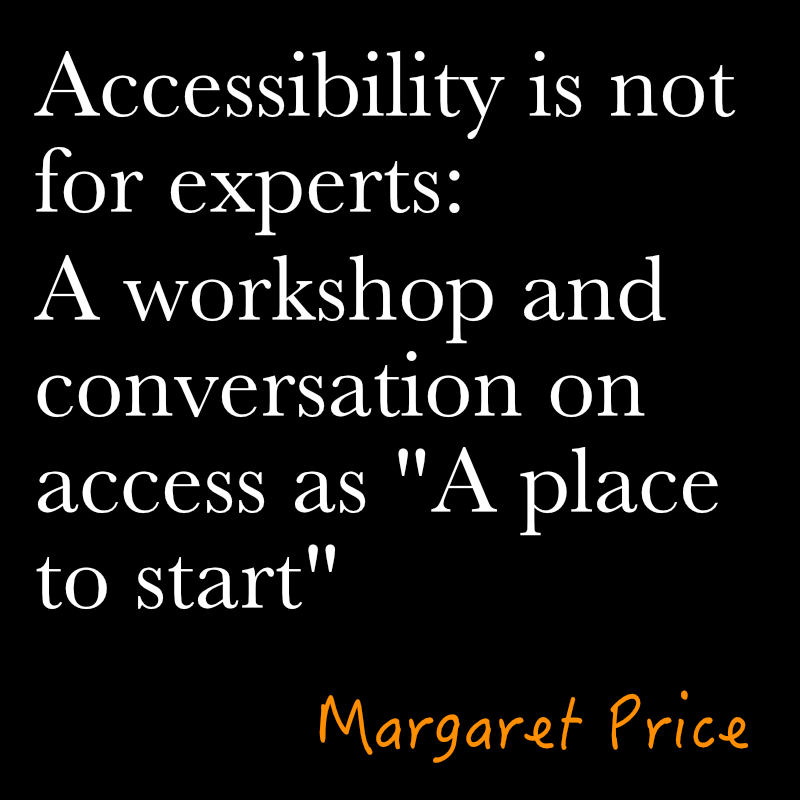 Drawing on Jay Dolmage's concept of using "places to start" to drive efforts toward accessibility, this workshop frames digital access and universal design as participatory and ongoing, rather than top-down processes requiring deep expertise. Attendees will first receive an overview of digital and classroom access (i.e. what should one try to achieve? where? when?) with an emphasis on guiding questions and principles rather than technical rules. Attendees will then engage in a discussion of access moves they are already making in their digital compositions and/or classrooms. The closing of the workshop will involve each attendee setting an intention to try out one new access move (or more) in one of their DMAC projects.
Workshop Materials: https://drive.google.com/drive/folders/0B08pOo0RChEaQVdlRmFmN0otbE0?usp=sharing
---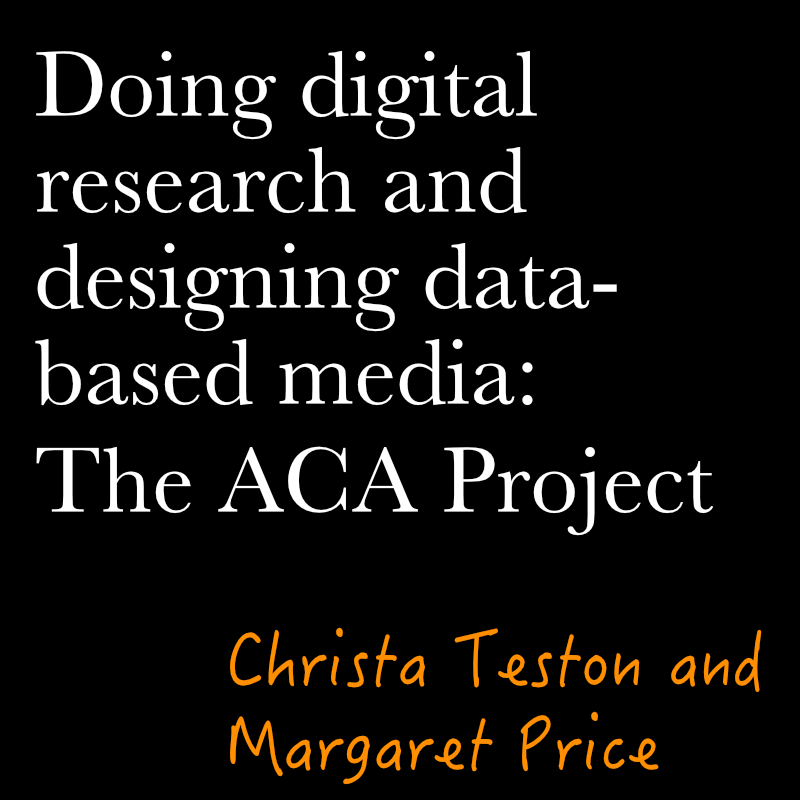 Inspired by the possible repeal of the Affordable Care Act, this presentation features an ongoing, nationwide social justice project focused on multiple publics' healthcare-related concerns and needs. After displaying preliminary results from the project's online survey, two of the project's co-PIs will describe and model how the team plans to mobilize digital media and contemporary scholarship in medical rhetoric, disability studies, and technical communication as a way to design useful healthcare resources (e.g. infographics; public service announcements; fact sheets) for vulnerable populations.
Workshop Materials: https://drive.google.com/drive/folders/0B8XZ9kVl3P-BUTRjY0JDM3ROaU0?usp=sharing
---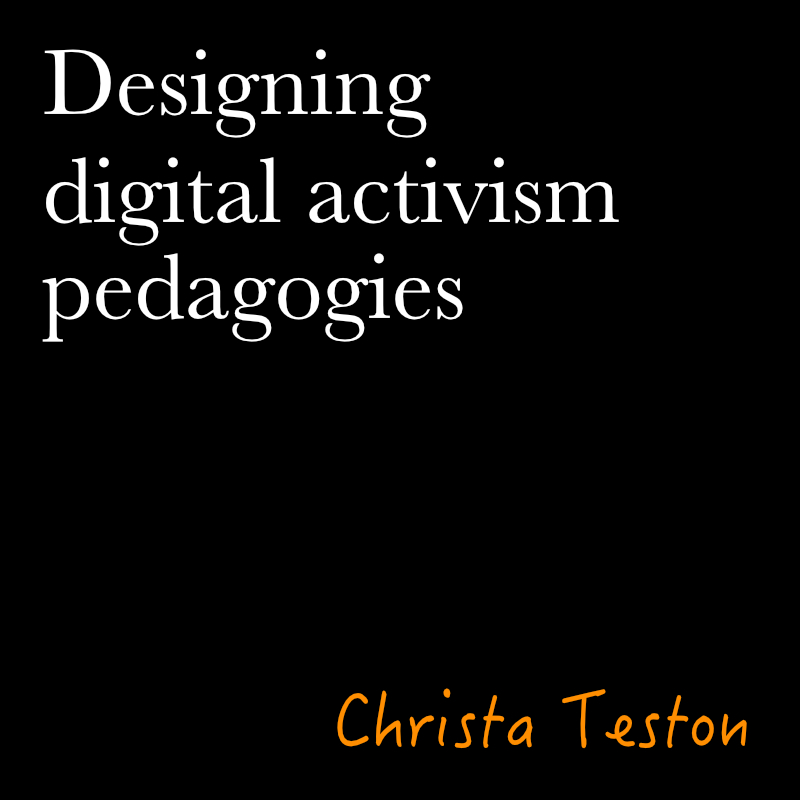 This workshop provides an opportunity for participants to draft learning objectives, course projects, and/or assessment strategies for a composition class that takes digital activism as its theme. Inspired by a successful digital activism themed course at OSU, participants will learn tactics for teaching with and about technologies—specifically, technologies that leverage the affordances of digital media for the purpose of protest, activism, and other ways of responding to events of social consequence (such as uprisings, disasters, and state-sponsored violence). Sample syllabi and other pedagogical resources will be provided.
Workshop Materials: https://www.dropbox.com/sh/8typ8amarmecbqd/AADhxeKYQOEzp-Wu3qUSm5Bta?dl=0
Link to presentation video: https://vimeo.com/150725869 (Clip begins at 6:30)
Supplemental Readings: Gries, L. (2013). Iconographic tracking. Computers & Composition.
Gries, L. (2015). Still Life With Rhetoric.
---
As teachers and administrators, we often find implementing meaningful change a difficult undertaking in the university. This session introduces an "Action Framework for Collaborative Institutional Partnerships," which identifies a series of actions and questions that guide you through both decision-making and partnership-building processes to facilitate change successfully.
Workshop Materials: Action Framework Chart
https://docs.google.com/spreadsheets/d/1BxBBWzb30JiEsvSNFBIicsmu6TLNZzByvr6j1DuQrLU/edit#gid=0
---
Thursday, May 11th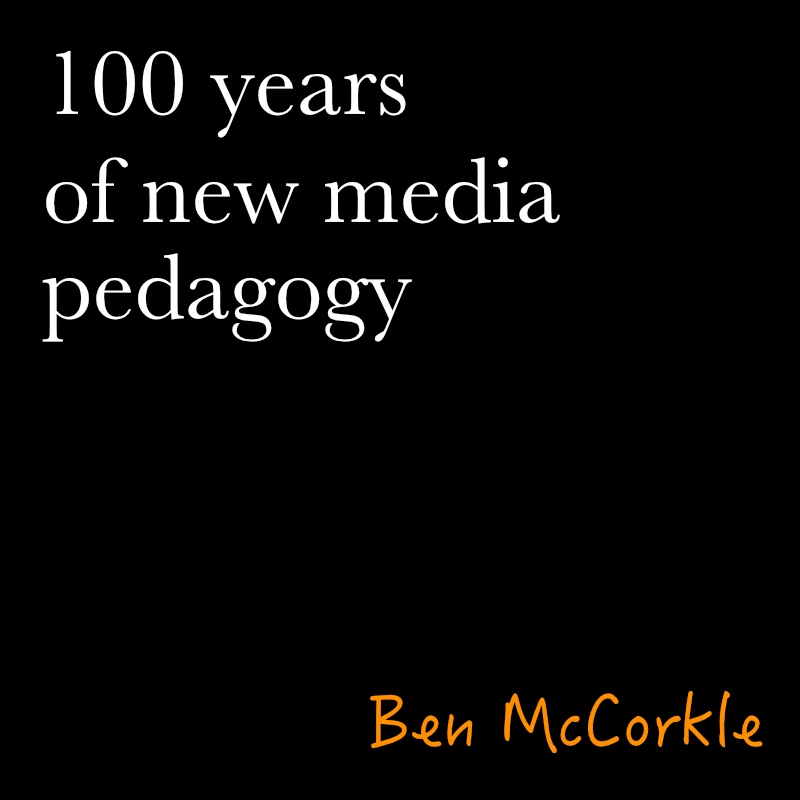 This presentation focuses on an ongoing research project that looks at a century's worth of articles from the publication English Journal that discuss the use of media and technology in the English classroom (primary through post-secondary). In it, we discuss our process for qualitatively coding our data set, the advantages of employing a distant reading methodology for exploring a rather large corpus of text, and the role of data visualization as an interpretive tool.
Workshop Materials: "Media Production & The Teaching of English, 1912-2012" (draft article for Kairos)
Supplemental Reading: "Lessons From History"
---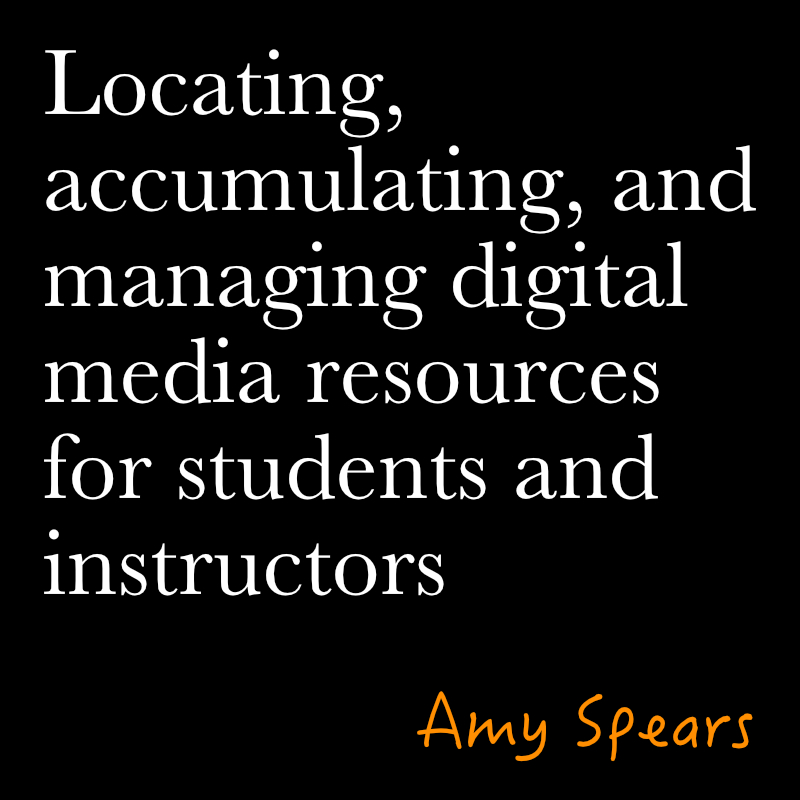 In this session we will discuss the questions to ask before choosing equipment and software for your program, sources of equipment and systems to handle logistics of organizing checkouts and inventory. We will also take a look at various cameras, recorders and accessories owned by the DMP and talk about what is on the market right now.
---
Friday, May 12th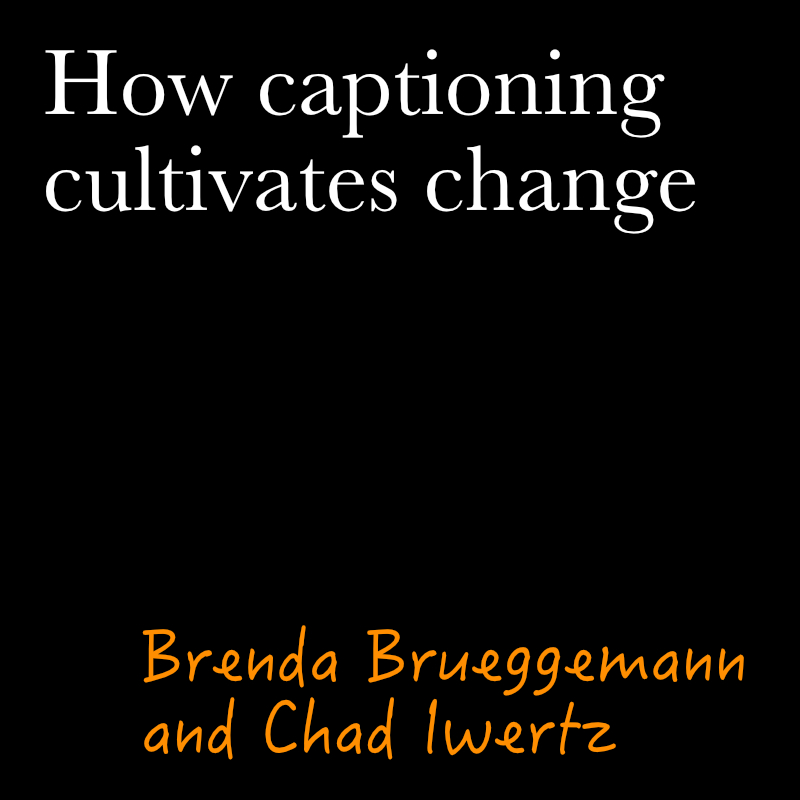 We will engage captioning (of videos, of public events, of classrooms, and of other online media) as a rhetorical practice in which captioners make choices in constructing meaning and interpreting audience, context, and purpose when creating captions.We will interrogate: captioning as accommodation versus access; the ways that Deaf filmmakers have challenged conventional captioning practices; and the rhetorical essence of what makes captioning a vital site for research that has so far been undertheorized and undervalued in composition research.
Supplementary Readings: https://drive.google.com/drive/folders/0BzlvZfBL3CJuWmFzUm9qQUYzYUk?usp=sharing
go.osu.edu/Caption: folder on captioning materials
go.osu.edu/captioningrhetoric: presentation slides
go.osu.edu/caption: practice video!
---
Saturday, May 13th
This workshop is designed to help participants better understand some broad affordances of digital technologies and use this knowledge to develop both classroom policies and activities that are suited to the specific learning goals of their courses.
Supplementary Readings: https://drive.google.com/drive/folders/0B0Wxa73oaOXZN0NaVlZCVG41ZlU?usp=sharing
---
Monday, May 15th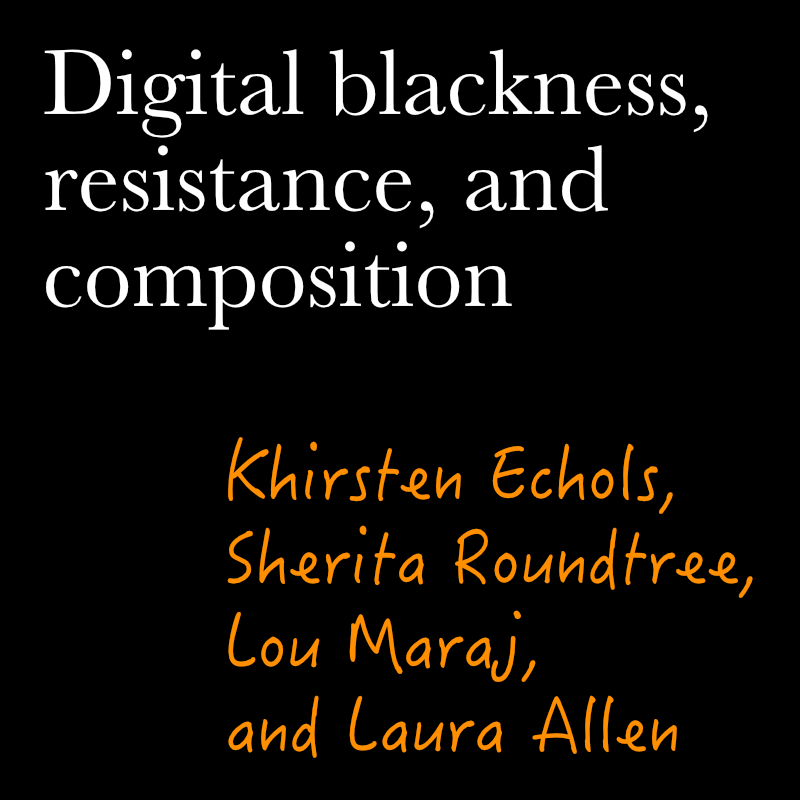 In this workshop, members of DBLAC (Digital Black Lit and Composition) will discuss varying approaches to the study, composition, pedagogies, and theoretical framing of digital blackness. We will begin the workshop with a short introduction to what our organization does and how audience members might support our initiative. Workshop leaders will then share short explanations on how the workshop topic relates to their respective research/teaching. Khirsten will address some cultural aspects of digital blackness, its relevance, and sustainability; Sherita will address the affordances and constraints of digital blackness in college course design; Lou will address the role of hashtagging in digital blackness and undergraduate antiracist pedagogy; and Laura will address digital blackness and composing technological histories.
Workshop materials:
https://drive.google.com/drive/folders/0Bz_FCWCgVwz8ZllEbEJDVEUtbU0?usp=sharing
DBLAC Website
https://padlet.com/echols_khirsten30/dblac1
---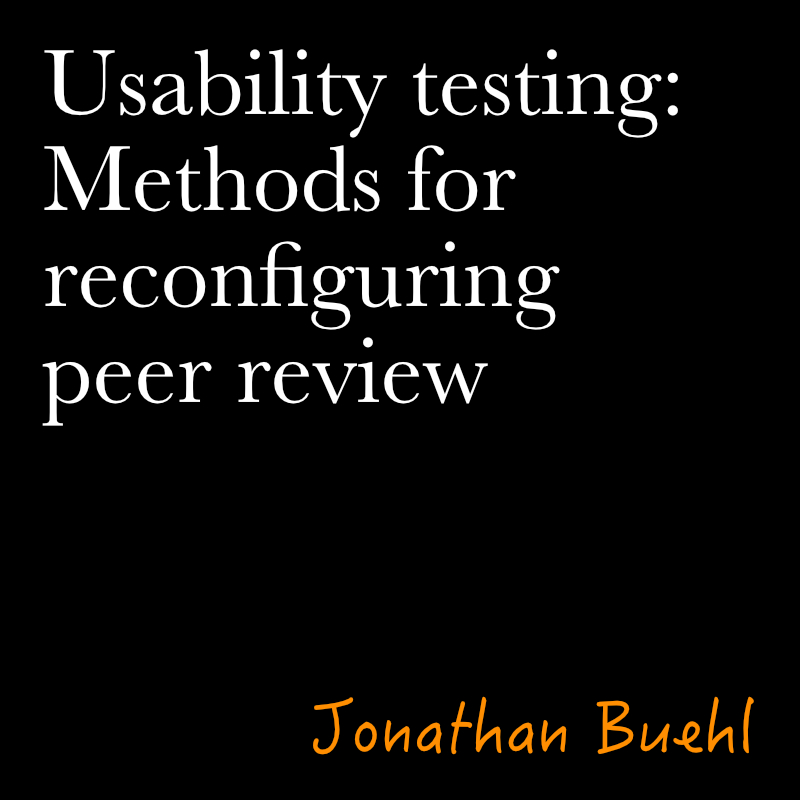 This workshop will demonstrate how you can use the tools and methods of usability testing to reconfigure peer review for both alphabetic and multimodal writing assignments. After a brief introduction to key usability concepts and methods, you will practice using different tools to test the usability of different kinds of documents.
Workshop Links:
Qualtrics Survey: https://osu.az1.qualtrics.com/jfe/form/SV_7WHWtZbqErntmS1
Presentation Materials: https://drive.google.com/drive/folders/0B6bxPgMr-LYRVUFYOGp0WS13MWM?usp=sharing
Screencast-O-Matic: https://screencast-o-matic.com/download (download if using your own laptop for the workshop)
---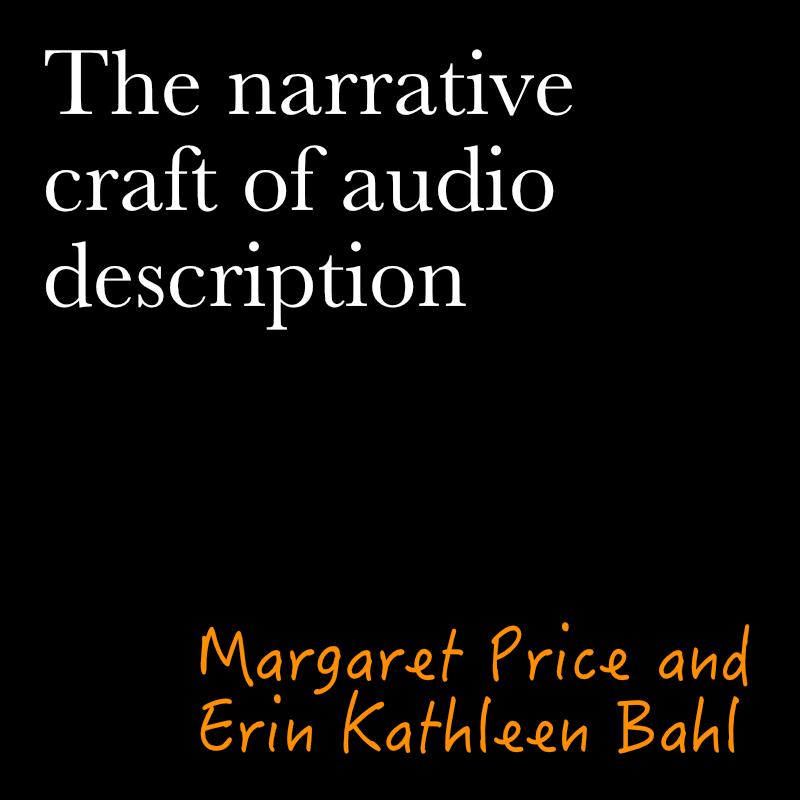 In this three-part workshop, Bahl and Price will first offer an overview of visual description, showing how this access move might work in the classroom and in digital publications. In the second part of the workshop, Bahl and Price share their in-progress webtext on this topic, demonstrating ways that the webtext both analyzes and enacts the production of accessible digital composition. In the third part, they invite participants to practice audio description of visual narrative, and to rhetorically examine their own audio descriptions created earlier during the institute.
Supplementary Readings: https://drive.google.com/drive/folders/0B7lx-keyzA8EM2Q0dzdSNGRvQXc?usp=sharing
---
What is the purpose and function of peer learning in a writing classroom? What happens when we take peer review online across class borders and enact it through anonymous platforms? Both questions point differently at the role of peers (and feedback and the role of practice) in supporting learning in writing. This session on the new work of peer review will address these and other provocative questions that encourage us to revisit our assumptions about learning theory, peer review, and students' and instructors' engagements with the practice.
Workshop Materials: https://drive.google.com/drive/folders/0B7lx-keyzA8ENjYtVWxVaFFrNlE?usp=sharing
---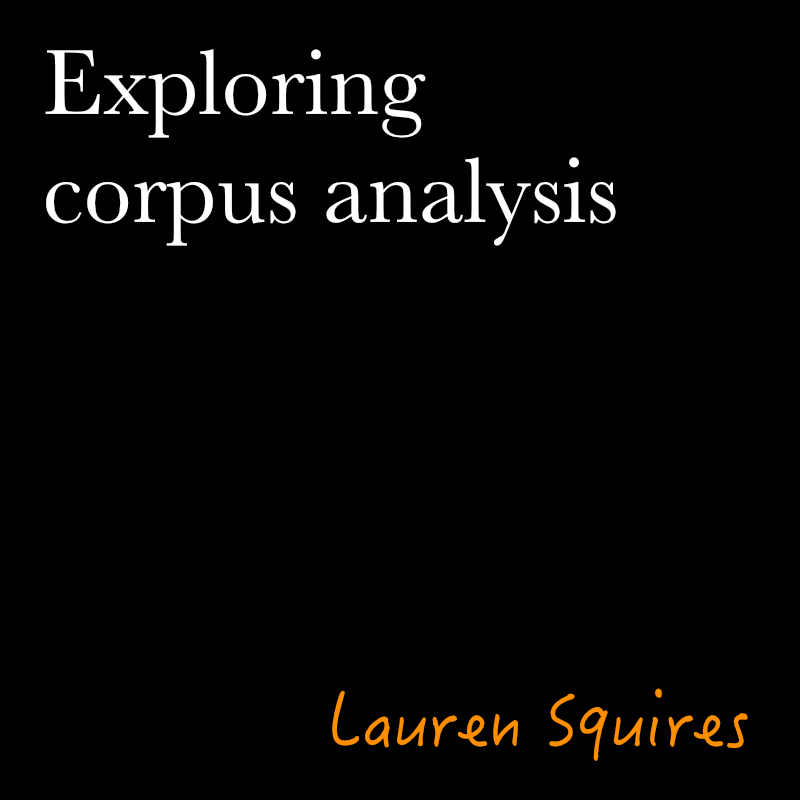 This hands-on workshop will equip you to conduct basic analyses of language in digitized text, whether for research or teaching purposes. We will first overview some of the uses of corpus analysis and discuss the basic concepts of corpus linguistics. Then we will develop a foundation in searching two types of corpora: ones that already exist in searchable format online, and ones that we create ourselves from texts of unique interest to us. The goal is for you to think about some of goals in your own research and teaching that might call for or be enhanced by corpus searches, and to equip you to go forward in exploring more on your own.
Workshop Materials: https://drive.google.com/drive/folders/0B2qggzo0zbIeVlR4d0FwRzhkYTg?usp=sharing
Voyant (download): http://voyant-tools.org/
AntConc (download): http://www.laurenceanthony.net/software/antconc/
---
Tuesday, May 16th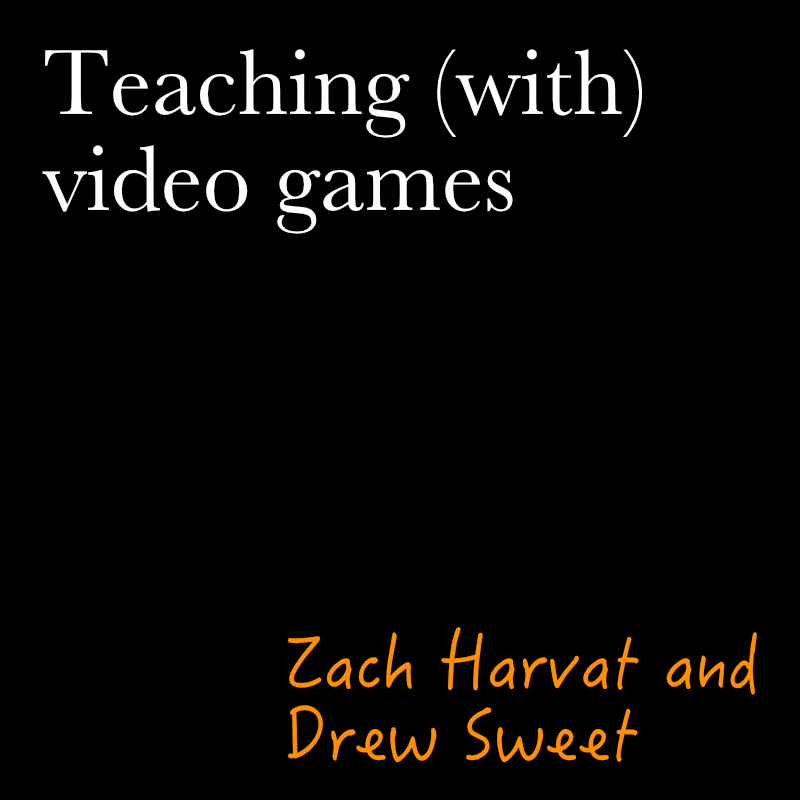 This workshop will provide a basic toolkit to begin thinking about teaching video games as course texts and using video games to explore rhetorical concepts. Participants will learn some of the fundamental principles of analyzing video game rhetoric, learn about the different types of games that are available to teach, receive the opportunity to experiment with playing some simple games, and brainstorm ways in which games may be incorporated into the classroom. Prior experience with video games is not necessary nor preferred.
Suggested Reading: "Procedural Rhetoric" by Ian Bogost, from Persuasive Games: The Expressive Power of Videogames
https://drive.google.com/drive/folders/0Bz_FCWCgVwz8TGNJZnF3cE5vVW8?usp=sharing
---
Wednesday, May 17th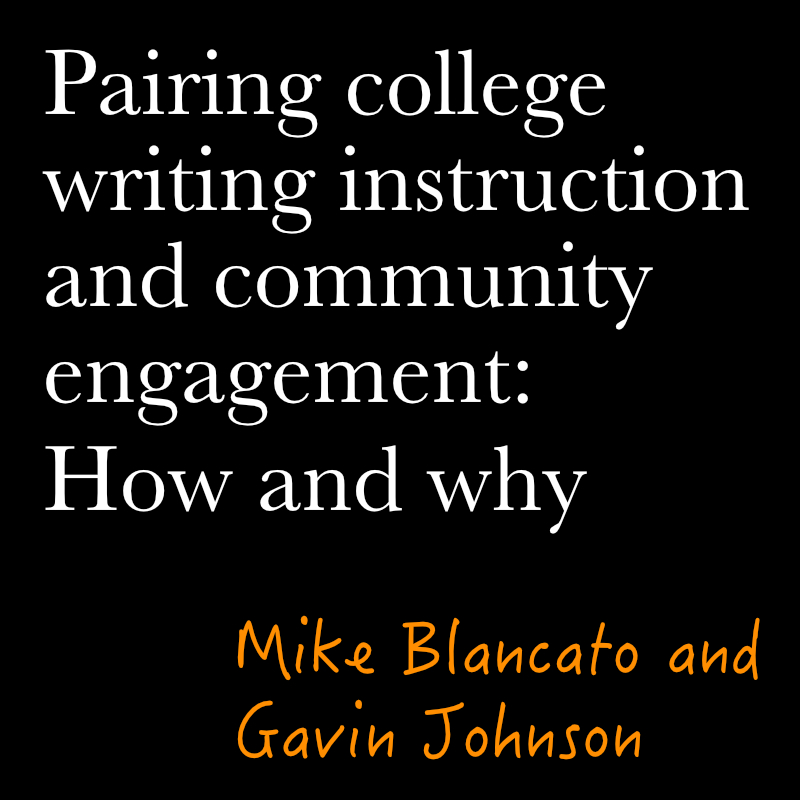 This presentation introduces DMAC participants to the Digital Archive of Literacy Narratives (DALN) and the Literacy Narratives of Black Columbus course. The Literacy Narratives of Black Columbus is a service learning section of second-year writing at OSU that asks students to collect, analyze, and archive the literacy narratives of Black communities of Columbus, Ohio. In this presentation, we will showcase 1) the technological infrastructure that makes this class possible, 2) learning objectives associated with the course, and 3) how students construct and reflect on multimodal projects to meet these course learning objectives.
Supplementary Readings: https://drive.google.com/drive/folders/0B7lx-keyzA8EZklRTnUxWmk5TDA?usp=sharing
---