Ben McCorkle
---
Notes
1. To see the complete Visiting Scholars in Digital Media interview series, you can access the playlist on YouTube here. They can also be accessed on the Internet Archive site by searching the phrase "Visiting Scholars in DMAC."
2. For a more complete explanation of the resources and support provided by the program, refer to the Visiting Scholars in Digital Media and Composition Call for Applications (PDF).
Works Cited
Aslinger, Ben and Nina Huntemann. "Digital Media Studies Futures." Media Culture Society 35.1 (2013): 9-12. Print.
Beck, Estee. "Reflecting upon the Past, Sitting with the Present, and Charting our Future: Gail Hawisher and Cynthia, Selfe Discussing the Community of Computers & Composition" Computers & Composition 30.4 (2013): 349–357. Print.
Lauer, Claire. "What's in a Name?: The Anatomy of defining new/multi/modal/digital/media texts." Kairos 17.1 (2012). Web. http://kairos.technorhetoric.net/17.1/inventio/lauer/index.html
Purdy, James P., & Walker, Joyce R. "Scholarship on the Move: A Rhetorical Analysis of Scholarly Activity in Digital Spaces." The New Work of Composing. Eds. Debra Journet, Cheryl E. Ball, & Ryan Trauman. Logan: Computers and Composition Digital Press/Utah State University Press, 2012. Web. http://ccdigitalpress.org/nwc/chapters/purdy-walker/
---
Author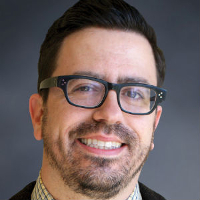 Ben McCorkle is an associate professor of English at Ohio State University at Marion, where he teaches courses on composition, the history and theory of rhetoric, literary publishing, and digital media production. He is the author of the book Rhetorical Delivery as Technological Discourse: A Cross-Historical Study, published by Southern Illinois University Press. He also has published essays in various journals and edited collections, including Computers and Composition Online, Rhetoric Society Quarterly, and Composition Studies.